---
---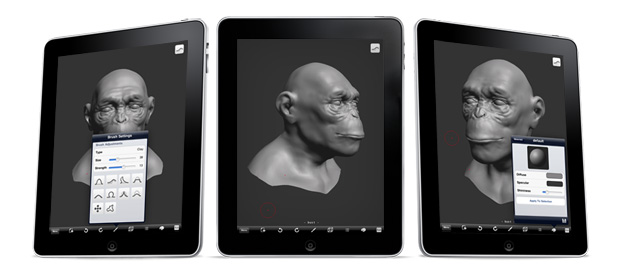 (chimp sculpted in forger starting from the provided generic bust basemesh)
Finally, about a year after starting to work on it, and over two years after writing the first rough version, is available on the AppStore. (note that this was originally known as iSculpt)
forger is a sculpting app for the iPad. For a full description on what forger does and does not do visit forgerapp.com.
Whilst is true that it won't let you sculpt super detailed models, it should have enough features for you to block in the initial subdivision level of a model, and then export this model to a computer to continue working on it  on some professional 3D package, since it imports/exports Wavefront OBJs. (like it or not, it's pretty much the industry standard when it comes to simple, non animated meshes. Its easy to parse, and I would say that nearly 95% of all 3d software supports it.)
forger also comes with some really generic basemeshes (sphere, cube, plane, bust, body) so you can start sculpting as soon as you download it! 😉
I would like to say that for me this is NOT a finished project, is will be an ongoing thing, I have already planned the full roadmap up to forger v2.0.0 (but I am open to suggestions ;)) I do not have a date for it nor I know if I will ever get enough time to invest on it and finally get to v2.0, so please, if you find it useful or you are curious, and want to see how it turns out, support it by buying the app! (and convince your friends and colleagues to buy it too!) I don't want to make any promises, that is the reason why I am not showing (publicly) the roadmap nor talking about features that will be added in the future as the fact that I have now about an hour available every day to work on it doesn't necessarily mean that it will always be the case.
As a modeler I feel that I have a pretty good idea on what is needed and I know in which direction this app should go, but like I said I am always open to suggestions. For any feedback or any kind of feature requests, please do not hesitate to email to: support at forgerapp.com or tweet to @forgerapp .
forger's special introductory price is: $2.99/€2.39/£1.99 .
PS: ok, I'll tell something in advance… an iCloud-compatible version is in the works, so you will be able to sync all your works across all devices and save them in the cloud. (If that is any useful ;))
---
---